Aylesbury UTC and local MP Rob Butler open new health and social care facility, built in collaboration with local NHS and businesses
FRIDAY 23 JUNE
An Aylesbury secondary school has opened a new health and social care facility for its students, with an event attended by Rob Butler MP and former Ofsted chief inspector Sir Mike Tomlinson.
Aylesbury UTC, based on Oxford Road, launched the new facility on Friday 23 June. It has been developed in collaboration with Bucks NHS trusts and social care organisations to meet a demand from local employers for skilled workers.
The health and social care suite will allow students to learn a variety of skills with state-of-the-art equipment in areas that replicate a working environment, including:
· A hospital ward.
· Home living area.
· Assessment room.
· Physiotherapy and reablement area.
Students, staff and governors celebrated UTC's new facility
The opening of the suite was split into a morning and afternoon event, and both featured a demonstration by health and social care students of their skills and what they would be learning in the new facility.
The morning event was attended by special guests Rob Butler MP and former Ofsted chief inspector Sir Mike Tomlinson, the latter of whom is now a trustee of the Baker Dearing Educational Trust that supports the over 40-strong network of UTCs including Aylesbury.
They were joined by staff, governors, employers that are partnered with the UTC, and representatives from the school's parent body, Merchant Taylors' Oxfordshire Academy Trust.
UTC facility will ensure students are work-ready
The new health and social care suite is being generously supported by Buckinghamshire Local Enterprise Partnership, Buckinghamshire Business First, Buckinghamshire New University, and Buckinghamshire College Group.
In line with the UTC's own objectives, the facility will aim to ensure students are 'work ready' once they progress on from the school.
Further to that ambition, from September the school will be delivering the health and social care T Level. The technical equivalent to A-levels, T Levels include a 315-hour work placement that students must complete with an employer, in addition to classroom tuition and examinations.
Aylesbury UTC, like its sister colleges in Baker Dearing's network, has been built in concert with local employers and has a curriculum specialising in local industries. In Aylesbury's case, that includes health and social care, digital, IT and computing.
Aylesbury MP Rob Butler commented:
"I have always been a strong supporter of Aylesbury UTC and am delighted to see it reach another milestone in its development with the opening of the new health and social care suite.
"The past few years have underlined the importance of a highly trained and talented workforce in our health and social care sectors, and the UTC model is ideally placed to help meet this challenge, with its focus on developing relevant, practical skills alongside academic work.
"I look forward to Aylesbury UTC's students benefitting from this excellent new facility and becoming health or care workers in our local community."
Merchant Taylors' Oxfordshire Academy Trust chief executive John Marston commented:
"As a trust we are delighted that this project has come to fruition. It will provide first-class facilities to drive forward technical education across Buckinghamshire."
Aylesbury UTC principal Nick Lamb commented:
"I am thrilled that Aylesbury UTC students will have the chance to learn in such a high quality and inspiring facility. I have every confidence that it will help them to develop a range of technical skills.
"Our students are well placed to make a significant contribution to the healthcare and social care sectors in our local community."
Baker Dearing Educational Trust chairman and former education secretary Lord Baker commented:
"Aylesbury UTC's new health and social care suite epitomises excellence in technical education, bringing together employers and educators to deliver a modern curriculum to meet an evidenced need locally for skilled young professionals.
"It is an approach that is replicated across the network of UTCs, many of which are now part of successful multi-academy trusts. We know that it delivers successful outcomes for young people as
well. Three-quarters of young people who left a UTC last year progressed onto apprenticeships or university."
About Aylesbury UTC
Aylesbury UTC, opened in 2013, aims to send young people into the world able and qualified to play their full part in it.
The University Technical College focuses on providing young people with the skills and knowledge they need to be successful in their chosen future pathway. Students aged between 14 and 19 complete academic, vocational, and technical qualifications in health and social care or digital, computing and IT.
Through its work with local and national employer partners, Aylesbury UTC's students engage in a range of experiences to prepare them to be part of the future workforce.
About the Baker Dearing Educational Trust and the UTC programme
The Baker Dearing Educational Trust supports and advocates for the nationwide network of University Technical Colleges (UTCs), which deliver to around 20,000 students between the ages of 11-18.
Each UTC, supported by university and employer partners, has one or more specialisms in the science, technology, engineering, or maths subjects, informed by the needs of local industries.
Bucks Free Press News
We were delighted to be published in Bucks Free Press about the coverage of the event:
https://www.bucksfreepress.co.uk/news/23610283.aylesbury-utcs-new-health-social-care-suite-officially-opened/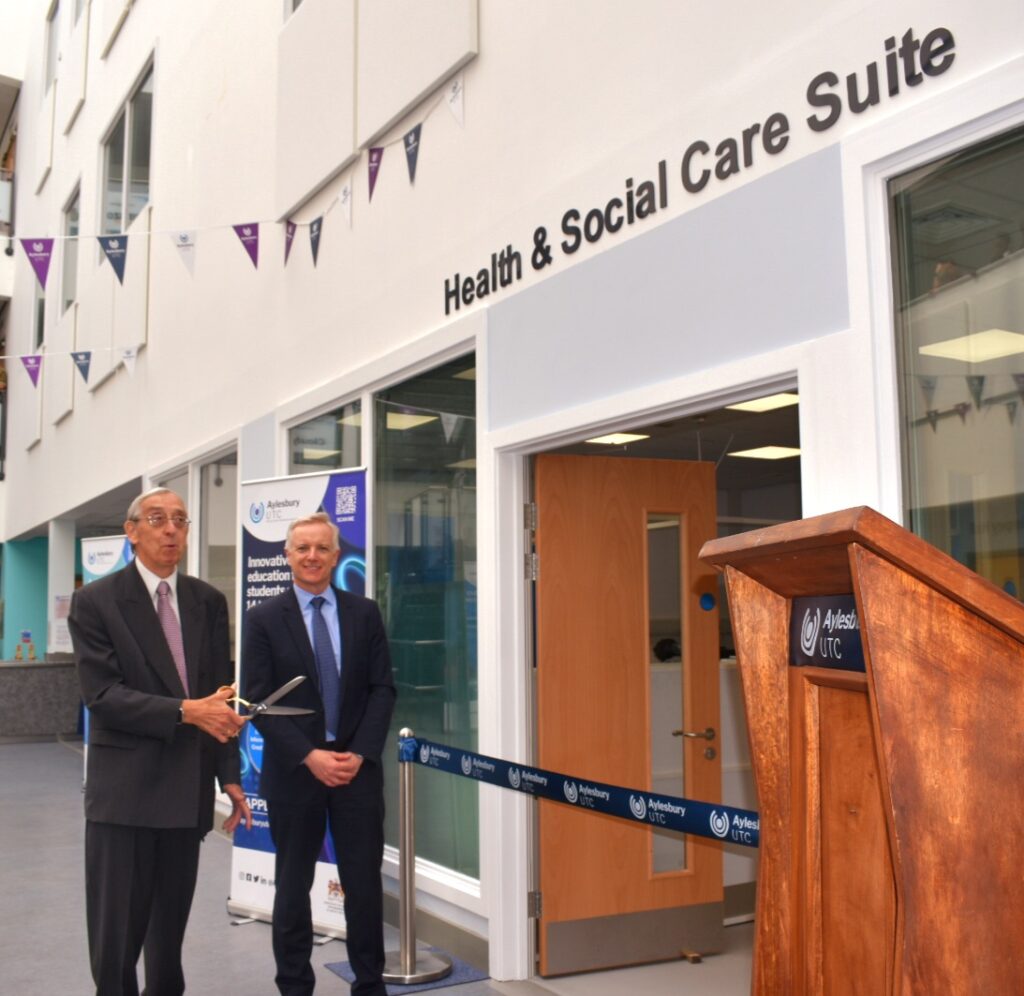 Moments To Remember
Find out more about Aylesbury UTC Health and Social Care
Click to find out more – T Level Health course
Click to find out more – Year 10 & 11 Health and Social Care course
Media Contact
For further media enquiries please contact
· Fraser Whieldon, Director, Grade Communications
· M: 0772 589 5565 · E: fwhieldon@gradecommunications.com