Bucks UTC and Taylor Wimpey launch campaign promoting careers in construction
Buckinghamshire University Technical College (UTC), along with sponsor Taylor Wimpey, one of the UK's largest homebuilders, has launched a campaign promoting careers in the construction industry. Over 224,000 jobs in construction need to be created in the next five years* to meet the industry's infrastructure demands and skills shortages. With over 150 career paths to choose from, there's a great choice of different job opportunities for young people either in traditional building trades, or non-site roles such as design and technical. Despite industry encouragement, only one in 10 women pursue a career in construction, and the industry is keen to change this position.
The campaign includes a new website, downloadable careers guide, and a series of interviews outlining the aspirations of young people at the UTC currently studying construction, alongside employees at Taylor Wimpey who are carrying out similar roles.
Bucks UTC's sustainable construction specialism teaches building methods e.g joinery, plumbing and an understanding of the properties and characteristics of a range of construction materials. There are opportunities to progress into the more professional side of the built environment which include site management, surveying, technical drawing etc. Alongside their GCSEs, Year 10 students study for a BTEC First Diploma in Construction with CSCS, whilst Year 12 students pursue AS/A Levels as well as a BTEC Level 3 Certificate, Diploma & Extended Diploma in Construction and the Built Environment. Five UTC students are currently spending part of their study week with Taylor Wimpey, learning about their business and hoping to become site managers.
Anne Billson-Ross, Taylor Wimpey Group HR Director commented: "We are very proud of our partnership with Bucks UTC and are supporting its unique approach to integrating technical, practical and academic learning to create an environment where students can thrive and develop the abilities employers are specifically looking for. Working with Bucks UTC we, as a company, have a fantastic opportunity to help shape the future of the housebuilding industry, making sure that we have the right skills, expertise and drive to meet the ever growing demand for new homes in the future."
More information about construction courses at Bucks UTC can be found on the new website https://aylesburyutc.co.uk/buildyourfuture/. Details of the UTC's open events can be found here or call 01296 388688.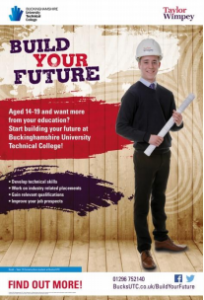 *Construction Industry Training Board Scott, Bucks UTC Construction student, features in the Construction Campaign posters.
The BBC News picked up our story, see the news piece here.